---
Home | Fruit Tasting & Tour | Buy ONO Products | About ONO Farms |Contact Us
---
Private Farm Tour & Consultation with the Owners
For those who wish to experience a more personal, in-depth professional exploration of ONO Organic Farms, we offer private consultation tours led by either long time owners Chuck or Lilly Boerner, or their son Pueo.
This consultation tour is meant for those individuals who are seeking in-depth knowledge of certified organic farming in the tropics. If you are just starting out on newly acquired land, or considering farming on Maui, in Hawai'i, or anywhere in the worldwide tropics, this experience is designed to show the many possibilities available.
Organic Farmers who want to fine-tune tropical organic farming methods to increase quality and quantity using micro and macro organisms found in properly made compost and compost tea.


Transitional Farmers who want to transition to organic agriculture while increasing production and quality.


Commercial Farmers who want to increase quality and quantity of production while lowering water use and other inputs.


Family Farms seeking to manage excess food production through farmer's markets and roadside stands.

Discover proven, successful methods of sustainable organic farming, gained from 45 years of experience.
Some topics addressed are:
Farm Planning and Layout.
Labor Management.
Harvesting and Processing of Coffee, Chocolate (Cacao) and Bananas.
Composting in the Tropics.
Soil Fertility Mangement and Water Conservation.
Planting, Maintainance & Harvesting.
Packaging, Branding & Marketing Your Harvest.
Solar Power Integration.
Learn about Exotic Tropical Fruit you may consider growing at your location. Some of the varieties you may encounter on this tour are: Abiu, Ice Cream Bananas, Star Apple, Durian, Jackfruit, White and Chocolate Sapote, Egg Fruit, Rambutan and more.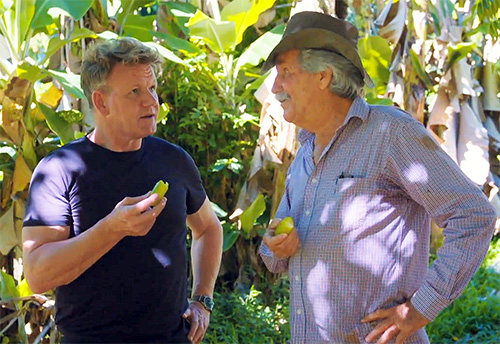 Location: ONO Organic Farms is located in the Hana District of Maui on the southeastern slopes of Haleakala volcano.
This consultation tour generally runs about 2.5 hours in duration.
Weather: We're often blessed with warm daytime sun, gentle tradewinds, and wonderful rains at night. Tropical showers are both refreshing and romantic! Our fruit trees and lush surroundings shimmer in the daylight reflecting the beautiful blue of the neighboring Pacific Ocean.
Shoes: ONO Organic Farms is situated on the steep slopes of an ancient volcano so please wear shoes suitable for hiking.
Cost: The cost to reserve space for ONO's Private Farm Tour & Consultation is $375.00 for up to 3 adults, including delicious samples of our fresh organic fruit and coffee.
Reserve a Private Farm Tour Today!
We accept cash or credit card. Credit cards are processed via PayPal, world leader in secure, online payments.
You may also call the farm at (808) 344-6700, or send an e-mail inquiry to tours@onofarms.com

We look forward to welcoming YOU to our organic family farm!

---
Home | Fruit Tasting & Tour | Buy ONO Products | About ONO Farms | Contact Us
---
www.onofarms.com/tour.html
©2020 All rights reserved.

E-Mail: info@onofarms.com
Telephone: (808) 344-6700