---
Home | Fruit Tasting & Tour | Buy ONO Products | About ONO Farms | Mailing List | Contact Us
---
Exotic, Tropical Fruit Tasting Adventure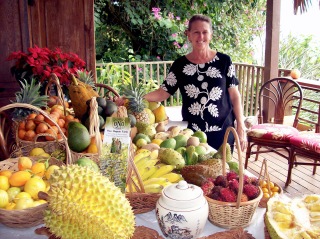 Enjoy a fruit-filled "Garden of Eden." Our Exotic, Tropical Fruit Tasting Adventure includes samples of ten to twelve in-season fruits and our "ono-licious" coffee. Tours times are available Monday through Friday afternoons beginning at 1:30 p.m. and by special appointment.
A tour of ONO Organic Farms is a wonderful and unforgettable activity experience for people of all ages!
After arriving from your north shore drive along the scenic, breathtaking, world-famous "Road to Hana," begin your adventure at ONO Organic Farms with refreshing samples of our delicious ("ono" in Hawaiian) exotic, tropical fruit and Arabica estate coffee.
Learn about exotic fruits and organic family farming. Then, stroll through a lush forest of spectacular fruit trees that are growing where previously there was pasture.
Exotic, Organic Fruit, Coffee, and Chocolate: When you tour ONO Organic Farms, you'll be surrounded by abiu, avocado, apple banana, ice cream banana, Cuban red banana, mountain apple, rose apple, star apple, star fruit, cacao (chocolate), cinnamon, durian, strawberry papaya, low-acid white pineapple, lychee, mango, breadfruit, jackfruit, red sweetsop, soursop, coffee, white and chocolate sapote, pink and white pomelo, pomegranate, egg fruit, kumquat, sweet lilikoi (passion fruit), rambutan, tamarind, tangelo, tangerine, gourmet guava, oranges, and more.
Download a PDF brochure on Our Exotic, Tropical Fruit Tasting Adventure.
Black & White version for printing: Page 1, Page 2
Location: ONO Organic Farms is located in the Hana District of Maui on the southeastern slopes of Haleakala volcano.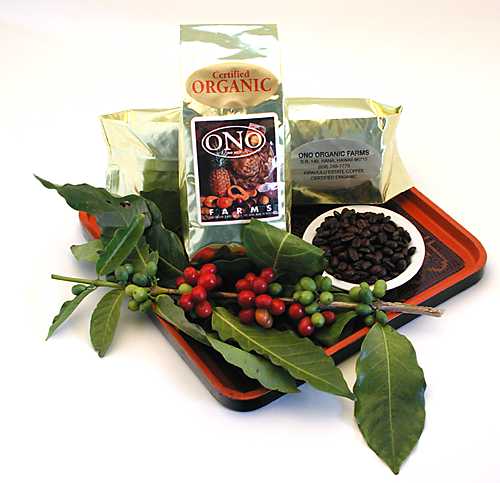 When: Tours are available by reservation Monday through Friday at 1:30 p.m. Private tours are also available by special appointment. Please call for more information about a private tour.
Our tour and tasting generally runs about 90 minutes in duration.
It's best to reserve your ONO Exotic, Tropical Fruit Tasting Adventure when visiting Hana and the east side of Maui.
After enjoying a special tour of our pure tropical paradise, you can return to the resort areas of Maui in time for a sunset dinner.
Weather: We're often blessed with warm daytime sun, gentle tradewinds, and wonderful rains at night. Tropical showers are both refreshing and romantic! Our fruit trees and lush surroundings shimmer in the daylight reflecting the beautiful blue of the neighboring Pacific Ocean.
Shoes: ONO Organic Farms is situated on the steep slopes of an ancient volcano. This means there's always a beautiful view of the ocean and please wear shoes suitable for hiking.

Reservations: Call (808) 248-7779, send e-mail to tours@onofarms.com, or make your reservations now using PayPal, just click the Add To Cart below.
Cost: The cost to reserve space for ONO's Exotic, Tropical Fruit Tasting Adventure is $35.00 per adult, including delicious samples of our fresh organic fruit and coffee. Children under 10 are FREE!
We accept cash or credit card. Credit cards are processed via PayPal, world leader in secure, online payments.
Reserve a Tour Now with PayPal

Tour ONO Organic Farms and enjoy our succulent tropical fruits and delicious fresh coffee. Many visitors remember our Exotic, Tropical Fruit Tasting Adventure as the highlight of their trips to Maui and come back to visit us time and again. We look forward to welcoming YOU to our organic family farm!

---
Home | Fruit Tasting & Tour | Buy ONO Products | About ONO Farms | Mailing List | Contact Us
---
www.onofarms.com/tour.html
©2004-2014 All rights reserved.

E-Mail: info@onofarms.com
Telephone: (808) 248-7779